UGANDA CHESS FEDERATION(UCF) DUE TO ATTEND ONLINE CHESS OLYMPIAD 22nd JULY TO AUGUST 2020
The World Chess Federation(FIDE) is scheduled to have the first online chess olympiad (OLONLINE) between July 22nd and 30th August, 2020.
Through a letter from the FIDE president Arkady Dvorkovich to UCF president Eng. Mwaka Emmanuel, the Uganda national team has been invited to participate in the OLONLINE 2020.FIDE Online Olympiad 2020
UCF was the best performing NF in the year 2019(https://bruvschessmedia.com/2020/01/13/uganda-chess-federation-2019-highlights/) with 37 international medals despite the very limited government funding and classification as a "non-priority sport" together with 43 other National federations and associations(NF&A). In order to continue as a leading NF in Uganda, the Federation swiftly opted for online chess after the COVID 19 pandemic and continues to lead the way in 2020 with back to back online engagements.
The youthful UCF executive continues to ensure Uganda's sports remains in the lime light with both international and local events including; Kids online chess (every Tuesday and Friday), Uganda online Grandprix(every Friday), Wanyama online invitational tournaments, the U14 Africa online chess, the world paralympiad and World chess championship for the disabled already underway. All events so far are privately supported and government is called upon to support niche sports like chess that have a competitive advantage in Uganda, are currently performing well and have educational benefits that help with holistic development of persons.
Chess team Uganda will be seeded according to the prformance of the 2018 chess Olympiad held in Batumi Georgia where the 17yr old Nansubuga Gloria won a WFM title as Shakira Ampaire settled for a WCM title.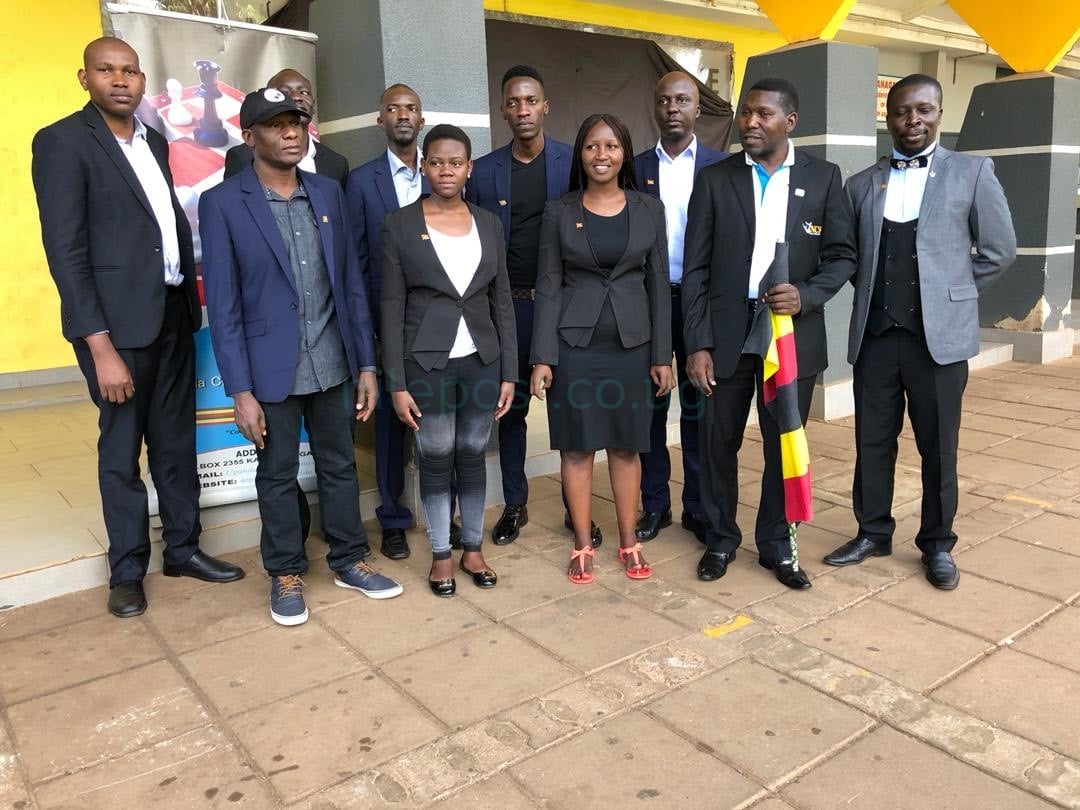 Chess team Uganda during the flag off( at NCS ) for the 2018 Batumi- Georgia Chess Olympiad
The invitation to attend the 2020 Chess Olympiad therefore comes at a time when the federation is finalising arrangements for online national chess championship, online National Junior chess championship and the online national league among others.
With the current situation of COVID 19 pandemic, curfews, and several restrictions from Ministry of Health, the players are encountering several challenges and require government support to sustain the activities and livelihood of the vulnerable poor chess players.
Online activities require routers, smartphones, laptops reliable internet and hefty fees to online Grandmaster trainers for national teams, while the vulnerable poor chess players (Disabled players, street children, slum dwellers) and some trainers in urban centers require government handouts to survive.
Team selection arrangements are underway and shall be announced on 14th July 2020. Team Uganda will be made up of 6 players including;
1. Two male players

2. Two female players

3. One U20 male player
4. One U20 female player

Team selection arrangements are underway as UCF struggles to find logistics to support Chess team Uganda.